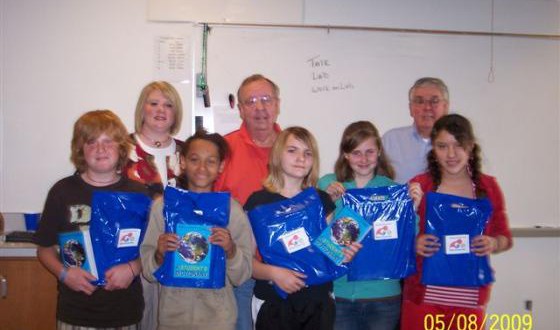 Fairmont Rotary Club brings literacy program to Five Lakes Elementary
Fairmont Rotary used the proceeds from a District 5950 CAP (Community Assistance Program) Grant to aid students at Five Lakes Elementary School in a four phase program.
Phase 1 provided age appropriate news magazines for all students in grades 3 through 6. These included Weekly Reader Magazines, Time for Kids and Scholastic Magazine.
Phase 2 provided `Election Information` packages for all 3rd and 4th graders including a mock election ballot.
Phase 3 provided `Drug and Alcohol` information packets for all 6th Graders
Phase 4 provided 504 A Student`s Dictionary for all students in grades 3 through 6. Additional dictionaries were obtained for future 3rd grade students. All dictionaries had a label attached to the fly leaf including the Rotary Four-Way Test, `Donated by Fairmont Rotary,` and a place for the individual students` names.