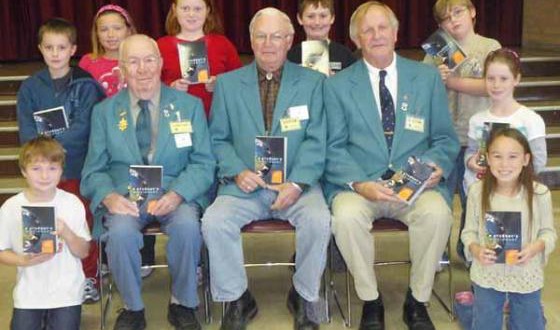 Brockport Elks Lodge helps define generosity
An annual tradition of giving continues at Byron-Bergen Elementary School, thanks to the generosity of members of the Brockport Elks Lodge 2110. The Benevolent and Protective Order of Elks has donated a number of dictionaries to the third graders in Byron-Bergen through The Dictionary Project.
George Kippley, Jack Hall, and Dave Crowley visited the school and donated more than 90 dictionaries.
The books were gifted to each third-grade student and their classrooms. The goal of the program is to assist all students in completing the school year as good writers, active readers, and creative thinkers by providing students with their own personal dictionary.
Crowley shared a bit of advice as the dictionaries were handed out: `Words develop your vocabulary, and that is how people judge you, by your vocabulary.`
All of the students are thrilled with the new dictionaries and have been excited to research the longest word in the English language, learn about U.S. Presidents and much more. The volume also has up-to-date information on many subjects.