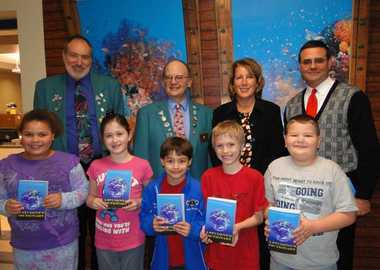 Dictionary Project comes to Oswego elementary schools
The Oswego Elks Lodge 271 representatives toured Oswego school district's elementaries to hand out dictionaries.
Jan Pashley and James Dillabough were joined by other Elks and school district officials as they visited Charles E. Riley, Frederick Leighton, Kingsford Park, Fitzhugh Park and Minetto elementary schools to present the dictionaries to nearly 400 third graders as part of the Elks nationwide "Dictionary Project."
"This is a very worthwhile project that we have been involved in for several years," Pashley said. "This is a great learning resource for these students and we are happy to be bringing this program to our schools."
"We are so grateful to the Elks for this generous donation of dictionaries for grade three students," said Assistant Superintendent for Curriculum and Instruction Cathy Chamberlain. "This resource will be a wonderful tool for them during their daily classroom instruction."
The pupils were excited as the Elks members journeyed from classroom to classroom presenting each child with their new book. They thumbed through their new books and discovered a variety of subjects that they didn't know were in the dictionary.
The "Dictionary Project" has been supported by the Oswego Elks Lodge. It originated in 1995 as Mary French of Charleston, S.C. created the program to distribute dictionaries to as many third graders as possible.