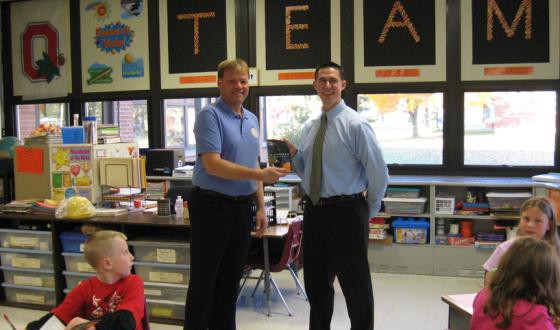 Dictionaries for 3rd graders
This past week, the Versailles Rotary Club distributed dictionaries to 3rd graders at Russia, Ansonia, Versailles and North Star Elementary schools. This is the seventh year the Rotary Club has distributed dictionaries at Versailles and North Star and the third year at Russia and Ansonia. The dictionary project has been headed up by Rotarian Brad Bruns since its inception. Assisting Brad were Rotarians David Vail, Deanna Jones and Sharon Henry.
Even in today's 'technological' world, the students were most receptive to receiving the dictionaries. In addition to definitions, each dictionary also contains weights & measurements, biographies of the U.S. Presidents, including President Obama, maps of the world, and the longest word in the English language.