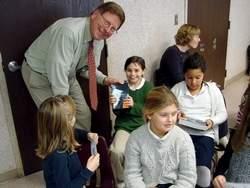 Dover Rotary hands out dictionaries at PCA
DOVER — Forty-five third grade students at Portsmouth Christian Academy went home with a special gift recently – just four days before Christmas. But this is one gift that will expand their knowledge for years to come.
Members from the Dover Rotary Club visited PCA to meet the students and individually hand out dictionaries. The presentation was part of The Dictionary Project, which is a nonprofit organization whose goal is to improve the reading ability and comprehension of all children, helping students become active readers, good writers, creative thinkers, and resourceful learners. The dictionaries are a gift to use at school and at home.
`This program is part of a national effort initiated by Rotary Club International, which declared this year to be the International Year of Literacy,` said Jim Verschueren, Dover Rotary Club representative. `We are visiting five schools here in Dover and will be donating over 400 dictionaries to students.`
`I`m really excited,` said third grader Emme. `This is my first dictionary. I plan to look up my multiplication tables.` The comprehensive paperback dictionary also includes useful sections such as biographies of the U.S. Presidents, maps of the seven continents, information about the 50 states, and more.
Portsmouth Christian Academy is located at 20 Seaborne Drivein Dover. PCA offers a challenging academic curriculum from preschool through high school along with competitive athletic programs and other stimulating extra-curricular activities. For more information, please call 742-3617 or visit the school`s website at www.pcaschool.org.