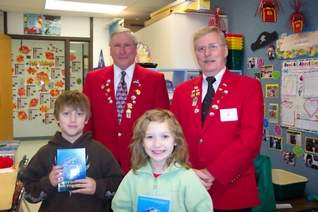 Elks give 250 dictionaries
Members of Elks Lodge # 641, Stevens Point, recently completed their Dictionary Project, which involved delivery of more than 250 dictionaries to third-grade students at six local elementary schools.
The Dictionary Project is a nonprofit organization whose goal is to assist all students in completing the school year as good writers, active readers and creative thinkers. The dictionaries are a gift to each student to use at school and at home for years to come.
Since its inception in 1995, more than 14 million free dictionaries have been distributed.
The Stevens Point Elks Lodge worked together with Thomas Widzinski of the Oshkosh Elks Lodge to coordinate the project.