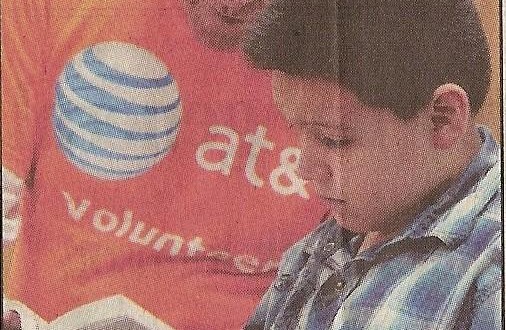 AT&T Pioneers donate dictionaries to third graders
A donation of dictionaries to local third graders is not meant just to expand vocabulary, but learning on many different levels.
The AT&T Pioneers, a volunteer organization of current and retired employees, and state representatives delivered hundreds of new dictionaries to third graders at Jefferson, Frank, and St. Mary's Catholic elementary schools on Tuesday.
The dictionaries contain the normal information of words and their definitions, but they also feature information on mathematics, presidents, states, countries and more.
The volunteer group and state Sen. Bob Wirch delivered the boxes full of dictionaries to third graders at Frank Elementary on Tuesday.
Gaylord Weidner, president of the AT&T Pioneers Kenosha Life Member Club and retired employee of the company, told the class to put their names in the book and make use of it.
'This is a really great thing for your education and your future,' Weidner said.
Scott Jansen, regional vice president for external affairs at AT&T, asked the children in Heidi Jones's third-grade class to look up 'doctor' in their new books, asking if any of the students had medical aspirations. Wirch talked to the class about the importance of voting, while using the dictionary-worthy word 'totalitarian,' before having them look up facts about Wisconsin.
'As you grow up, you have to communicate with people,' Wirch said. 'You will be judged by the words you use. And you can better express yourself with the words in this book.'
Weidner said he was proud of the Pioneers' work of donating these dictionaries and getting to deliver them directly to the students who will use them.
'These are kids who follow through,' Weidner said of seeing previously donated dictionaries still being used by older students.
The several hundred dictionaries distributed on Tuesday were among 8,500 given out by AT&T throughout the state. Rep. John Steinbrink assisted with the distribution at Jefferson Elementary and Rep. Peter Barca assisted at St. Mary's. The distribution has been held for the last five years across the state.