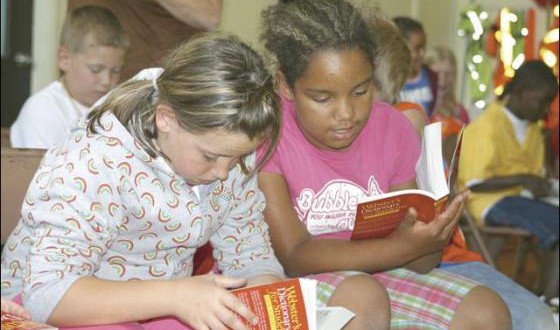 The gift of words: Duncan Rotarians give dictionaries
A dictionary is more than just a book with words and definitions. For some Duncan third-grade students, dictionaries could prove to be a lifeline to more knowledge.
The Duncan Rotary Club provided dictionaries for all third graders at Woodrow Wilson, Emerson and Mark Twain. Along with these books, students received letters explaining the project. These letters were addressed to the parents and guardians of the students.
Susan Camp, Rotary member, said, 'I think it was great. I think it's important that they have their very own books because books are keys to opening doors of opportunity for them.'
At the three schools, Camp and other Rotary members handed out dictionaries to each student, whether in the classroom, as at Woodrow Wilson, or as a group in the gym, as at Mark Twain.
The club planned the project for months, but it took a short amount of time to execute. Camp said she had a lot of help, which made the program run more smoothly.
Adding Rotary labels inside the covers of the dictionaries and distributing the books were among the parts of the project with which she needed the most help, she said.
She said she didn't think she could do it on her own and appreciated all the people who assisted with the program.
Before the Rotarians left each school, they looked up a word with each student. This word was 'service,' which held an important significance for the Rotary members and the students.
Camp told the students that the Rotary Club was doing a service for them, which was part of the reason the students needed to know what the word meant.
At Mark Twain, teachers also had students look up the word 'citizenship.' For the students, the word is intended to positively shape their lives.
Dana Jackson, third-grade teacher, said the dictionary service project is important because it provides students with a resource needed to acquire the necessary research skills.
'It's a great tool for them,' Jackson said. 'They can use it for years to come.'