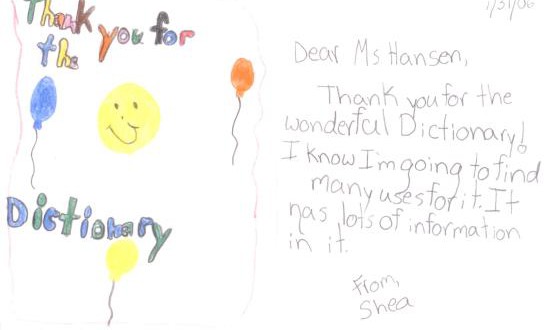 Harmony Grange brings Dictionary Project to Sant Bani
The Dictionary Project came to the third grade at Sant Bani School, as alumna Mackenzie Hussman, class of 2006, and her mother, Vicki Hussman of Tilton, returned to Sant Bani recently to present Sam Conkling's third grade class with a very special gift.
The Hussmans came on behalf of Harmony Grange # 99 in Sanbornton to give dictionaries to every student in the third grade as part of The Dictionary Project being held by Granges throughout the state. The New Hampshire Project originated with the Pemigewasset Valley Grange and is supported by many local Granges. It was to be a five-year project and is now in its seventh year and going strong.
Mackenzie Hussman had come to Sant Bani when she was in the third grade so it only seemed fitting that she return to her beginnings at the school to deliver such a wonderful gift. She and her mother are both members of the Harmony Grange and Vicki is the Grange Master this year. Throughout the years the Grange has donated over 250 dictionaries to many schools in the local area including Tilton, Belmont, and New Hampton. Private schools are also among their recipients.
Harmony Grange #99 purchases the dictionaries by holding small fundraisers. This year because they were unable to raise the necessary funds, they also accepted personal donations in order to keep this tradition going.
By giving the gift of a dictionary to every third grader, the Grange hopes to promote literacy through reading and further promote a successful educational experience for all children. In February of 2007 the Dictionary Project celebrated the donation of its five millionth dictionary.