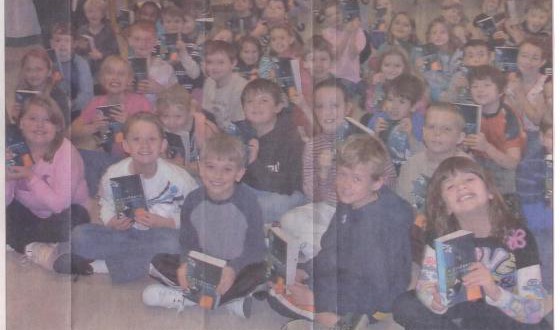 Now Marston students can look it up
The Hampton Grange presented every third-grader at Marston School last week with his or her own personal dictionary, which can be put it to good use now and for the rest of their lives.
Laura Eld, master of Oceanside Grange 260 in Hampton, joined rep­resentatives of her organization in presenting 136 students with a new dictionaries during an assembly at the school on Nov. 12.
The Grange has been distributing dictionaries at no cost to third-grad­ers since 2002, and to date has handed out over 1,040 books.
`Many school districts are unable to provide individual dictionaries, so we decided to take on this project to show our community concern and to be providers,` Eld said.
Eld said the reason why the Grange picked the third grade is because at that age children are old enough to understand what a dictionary is and how to use it.
`We`re hopeful they can put it to good use in high school and even be­yond,` Eld said.
Eld said her organization got the idea from the state Grange, which shared information on a South Caro­lina woman who had started the proj­ect. The goal of the program, she said, is to promote literacy through reading, as well as a successful educational experience for all children.
Marston Principal Lois Costa said the school appreciates everything the
Grange has done over the years for Marston and the community at large.
`It was just one of their initiatives to once again give back to the commu­nity and the children of Hampton.` Costa said. `We are just delighted they do this because a dictionary is an invaluable resource that everyone uses.`
Costa said the yearly visit from the Grange has become a tradition at the school.
`Each year they come in, and they speak with students about the Hamp­ton Grange and then give them this wonderful resource that children have on the bookshelves for a very long time,` Costa said. `Third grade is an appropriate time to receive this resource, and they are just thrilled to have it.`
Eld said the best part of visiting the school is seeing the kids reaction when Grange members hand out the dictionaries.
`They are so excited,` Eld said `One girl started to look up the wore `Google` because she heard her family say it, but didn`t know what it meant.`
The Grange is the oldest community organization in town, originally stating in town in 1887. Over the years the community organization has worked to help those in need.