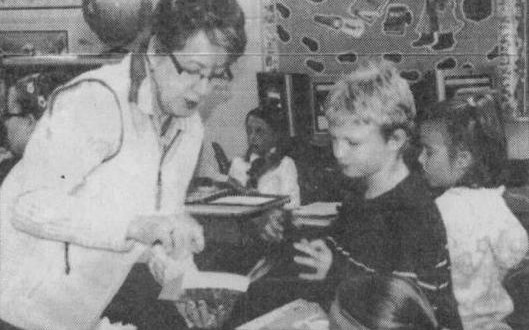 Humboldt Auxiliary gives annual gift of dictionaries
The Humboldt Legion Auxiliary gave 119 dictionaries to the West Central third graders in Humboldt and Hartford on Tuesday, October 20. Proudly representing the Auxiliary were Barb Bassett, Donna Beck, Marian Hartle, and Arlis Hentges. Along with the presentation of the dictionaries, the Auxiliary ladies also spent time visiting with the classes. Beck explained to the third graders all about the Auxiliary. 'We take care of our veterans,' she said. The children were then asked in any of them had veterans in the family, many of whom raised their hands and named their special veteran. She also told the children about the Halloween party that the Auxiliary is throwing at the VA Hospital this week.
The Auxiliary has been giving dictionaries to West Central third graders for nine years. This is a statewide American Legion Auxiliary project in which many of the Auxiliaries around the state participate. 'Our main projects are vets, community, and children,' explained Beck.
Every year, the students look forward to the visit from the Auxiliary. The Auxiliary ladies also look forward to visiting the children. 'The kids are always so polite and appreciative,' said Arlis Hentges.
Third grade is when most students start to learn about using dictionary skills. They prepare all week by learning all about dictionaries. By the time they get their own dictionaries, students are anxious to apply their new knowledge. 'They have had the dictionaries out all week reading through them,' said Ellen Nester. 'Many are taking them back and forth from home to school!'
The teachers also like this particular dictionary. 'It has some nice features like a copy of the Declaration of Independence and the longest word in the English language,' said Evie Patterson. 'Therefore, the students gain new knowledge as they peruse their new dictionary.' The staff is grateful that the Auxiliary cares about West Central and its students. 'We really appreciate the generosity of the Auxiliary,' said Patterson. 'The ladies come into our classrooms with enthusiasm about the dictionaries and it makes the children feel special to get their very own dictionary!'
Mrs. Patterson's students were all very excited to share their feelings about their new dictionaries.
'I like it because it has the longest word in the English language.'
'It has a lot of information and it's fun to look at.'
'I like it because it has sign language in it.'
'Thank you for coming and giving us the dictionaries. They are fun to read.'
'I'm glad we got the dictionaries.'
'It has information about the Presidents and the states.'