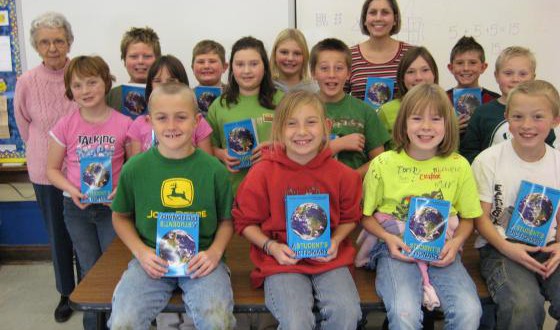 Marion third graders receive dictionaries from Legion Auxiliary
Nancy Larsen and Sally McKenzie of the Jacob D. Schmidt Unit #235 SD Department of the Legion Auxiliary presented 15 dictionaries to the Marion School third graders in Marion, SD, November 17, 2008. Nancy talked about the importance and usefulness of a dictionary and pointed out the features of their personal copy, a gift of the local Legion Auxiliary. The students were eager to receive them, discuss dictionary use and have their picture taken. The Auxiliary is appreciative of the national Dictionary Project.
Attached is the picture of the students, Sally McKenzie, a 56-year member of the American Legion Auxiliary and Kari Wieman, the third grade teacher. Not shown is Nancy Larsen, project chairman who has been a 36-year continuous member of the American Legion Auxiliary.