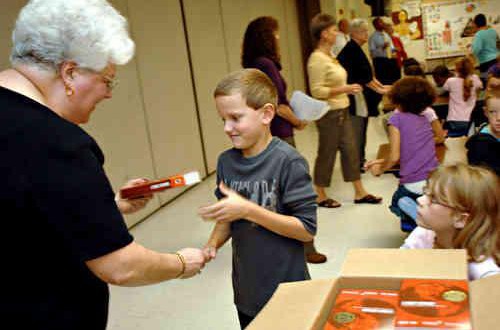 King George Ruritans distribute dictionaries to every third grader in the county
Children don't usually cheer over dictionaries, but Tuesday's distribution of books at King George Elementary School brought out thunderous applause.
'This has everything in the whole world in it,' said a grinning Clare, as she thumbed through her paperback version of A Student's Dictionary on Tuesday. 'I'm obsessed with this.'
Clare is among more than 400 third graders and teachers in King George County, including home-schooled students and those at the Navy-supported Dahlgren School, who will get free dictionaries this month, courtesy of the King George Ruritan Club.
'You don't know how it does my heart good to see you get excited about something you can use your whole life,' said Aubrey Mitchell, a Ruritan who organized the project.
He and other Ruritans from King George and the Chesapeake District gave each student a dictionary that includes the typical definitions and parts of speech–and then some.
The book also features multiplication tables, the Declaration of Independence and information about states, planets and presidents.
As the red paperbacks filled the cafeteria where the students assembled, many third graders flipped to a section in the back of the book and practiced American Sign Language.
'This is super cool, isn't it?' asked teacher Rhonda Inzana as a group of students formed various letters with their fingers.
The Ruritans paid $1.70 for each book for a total of almost $700, which they bought through the Verizon TelecomPioneers from The Dictionary Project. Donations from businesses and residents, including Joyce and Homer Hite–who first suggested the program to Mitchell–helped with the funding.
'This is one of the greatest projects that Ruritans have ever gotten into,' Mitchell said, adding that King George Elementary was the first public school east and north of Richmond to get the free books. 'It's quite a privilege.'
It couldn't have come at a better time, teachers said, as the third graders put together their own dictionaries about autumn.
'A lot of times, we send work home, and a lot of kids say they don't have a dictionary at home,' said teacher Pat Gwin. 'So now, everyone will.'