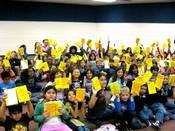 Students get dictionaries, virtual field trips
Reston Rotary expands one education initiative, adds another
This week, the Reston Rotary Club finished donating 682 English dictionaries and 597 English-Spanish dictionaries to area third graders, after making deliveries since mid-October.
When the club started buying dictionaries for students through the national Dictionary Project two years ago, only two schools received the books, said Rotarian Carol Ann Babcock. This year, dictionaries went to six of the seven elementary schools in the South Lakes High School pyramid. Babcock said Sunrise Valley Elementary had considered its population was too affluent to need the donations.
At each school, she said, the third graders were called to an assembly, where they found the dictionaries piled high in the front of the room. When the principal announced that all those dictionaries would be given to the students, Babcock said, 'Jaws drop, eyes get all buggy. It's really gratifying.'
The goal of the program, she said, is to help all the students finish the school year as strong readers, writers and thinkers. She said the dictionaries were bought with membership dues and fund-raisers. 'It's donations from the membership, primarily.'
That membership is unusually small, with only 34 people in the club.
Students in the first schools to receive dictionaries, such as Fox Mill Elementary, had already written stacks of thank-you letters. 'They're great and I learned a lot of stuff like the longest word in the world, but I can't pronounce it!' wrote one Tessa K.
'I bet you worked hard on earning the money and buying the dictionaries,' Eric, another Fox Mill student, wrote.
A student who identified himself as Peter wrote, 'I enjoyed how you had a Spanish dictionary. It was helpful for my dad to understand what my mom said, and for me whenever I don't understand what my mom says.'
Babcock said Rotary's primary goal was to promote health, good citizenship and education, particularly literacy.
On the citizenship front, she and her husband Jim got their club involved this year in funding 'electronic field trips' created by the Colonial Williamsburg Foundation. Both of the Babcocks work in national intelligence and have found that 'politics can get shrill,' she said. But they discovered that a trip to Williamsburg and a return to the country's founding principals refreshed them.
So this year, they funded electronic field trips for two of the elementary schools on the club's dictionary delivery list, at $500 apiece, 'and we challenged the Rotary to fund the rest, which they did,' she said.
Each of the year's seven lessons is broadcast on public television, with breaks that allow students to ask questions via telephone or e-mail. A series of interactive Internet resources accompanies each program, allowing children to investigate history and examine primary sources, Babcock said. Among her favorites was the option to e-mail Henry Timberlake, a colonial journalist and cartographer, as part of the 'Emissaries of Peace' installment. Students who send an e-mail get a response from Timberlake. And each electronic field trip comes with teaching resources.
'What we buy when we sponsor a school is the copyright access to this material for the school for the year,' Babcock said, noting that all seven installments and accompanying material become the school's to keep and all students get usernames and a password and can log in whenever they like.