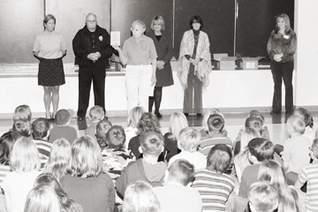 Rotary Club of Baltimore distributes dictionaries
The Rotary Club of Baltimore concluded Literacy Month by distributing almost 220 dictionaries to third graders at Liberty Union-Thurston, Millersport and Pleasantville Elementary Schools on Nov. 8.
Rotary International, the world's first service club organization with more than 1.2 million members worldwide, is best known for its initiative to eliminate polio. However, Rotary has other initiatives, including promoting and facilitating literacy throughout the world.
The Rotary Club of Baltimore, chartered in April 2002, has distributed dictionaries every year to third graders at the three area elementary schools as part of its commitment to literacy.
Dictionary Project co-chairs Judy Smeck, Marsha Hall and Ruth Crutcher-Beckwith started back in August to identify how many third graders were at the three elementary schools.
'The Best Dictionary' was purchased using the club's general service account. The project co-chairs were accompanied by Club President Mike Tussey, Trudy Reeb and Kathy Badgeley to visit each of the three elementary schools.
After passing out the dictionaries to the eager students, the club members assisted the students with looking up a number of different words. Club members demonstrated how the students could use a dictionary to figure out how to spell a word as well as understand what the word meant.
The Rotary Club of Baltimore meets at noon every Thursday at the Starlite Lanes Back Alley Lounge, Baltimore. Interested individuals are welcome to attend or call President Mike Tussey at (740) 862-4205 or e-mail mtussey@baltimore ohio.org.