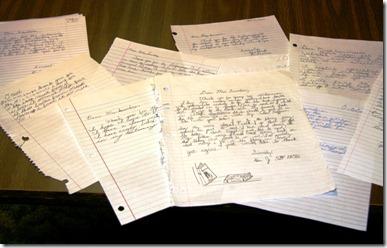 Vinton 5th graders say, "Thanks!"
Our club has received a nice group of wonderful thank you letters from the 5th graders at Vinton Elementary School. The students enthusiastically thanked the Gallipolis Rotary Club for the dictionaries we distributed in October. Here are a few interesting comments and original spellings from their letters:
'It will help me out a whole lot! I am trying to find out the meaning. Dictionarys Rule!'
Another student wrote, 'Thanks for the Dictionarys they work very good so far and I m going to use them forever and I left it in good shape!'
Chase wrote, 'I hope you guys raise a lot of money!'
And this: 'I want to be in the rotary club when I get older. The rotary club does a lot for kids like us, thank you.'
And finally my favorite: 'Thank you for the Dictionary. My sister has a Dictionary that you gave her. Who invented the webster Dictionary.'
At least one student recognized the Rotary sticker inside the dictionary and repeated the Rotary 4-Way Test in her letter. As revealed in this brief sample, the students overwhelmingly approve of our dictionary project!