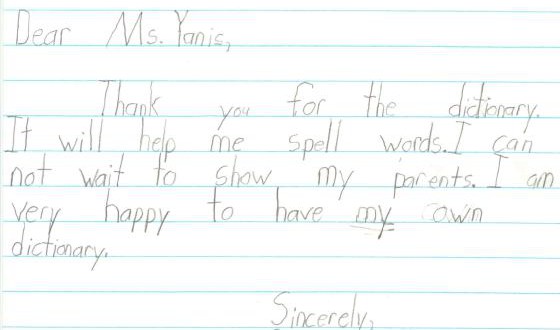 Rotary Club of Breakwater Daybreak gives dictionaries to 3rd grade students
Rotarians from the Rotary Club of Breakwater Daybreak, South Portland-Cape Elizabeth, visited third grade students attending Dyer, Brown, Small, Kaler, and Skillin Elementary Schools and presented them with personal dictionaries.
Ilse Yanis, who spearheaded the project, asked the students `How many of you like to read?` Their hands flew up. She talked to the students about the importance of literacy and that reading is one of the most important skills that they will ever learn. The goal is to help you leave the end of the school year as good spellers, active readers and creative thinkers.
With the A Student`s Dictionary in hand, she asked the students to find the words `volunteer` and `education`. Yanis explained, `I am a volunteer and today I am volunteering. Rotary International is a group of more than 1 million volunteers all over the world who do service for others. That is what we are doing today, giving you a dictionary. We hope that you will use it every day.`
Rotary is proud to support literacy among our young learners, Yanis added.