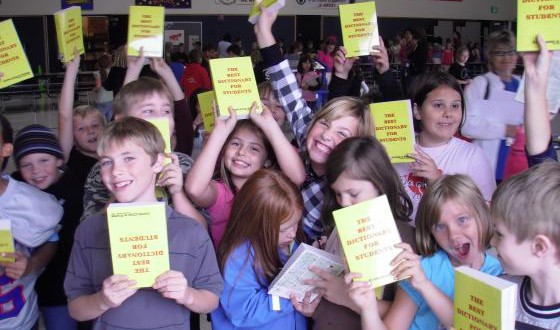 Rotary Club of Brookings-Harbor
Dear Mary,
I'm happy to report that the dictionaries were handed out by Rotarians on Friday to students at Kalmiopsis Grade School and Brookings-Harbor Christian School in Brookings, Ore. I'm attaching a photo of some happy recipients. Notice the two girls in front working to sign the Four-Way Test nameplate….
The best story, however, came today at our club meeting. A Rotarian said that she was telling her eighth-grade granddaughter that she was handing out dictionaries last week, and the granddaughter replied, 'I still have my dictionary. I use it every day.'
Congratulations on all your work. I know our club members think it is a very valuable project.
All the best,
Charlie Kocher
Rotary Club of Brookings-Harbor, Ore.