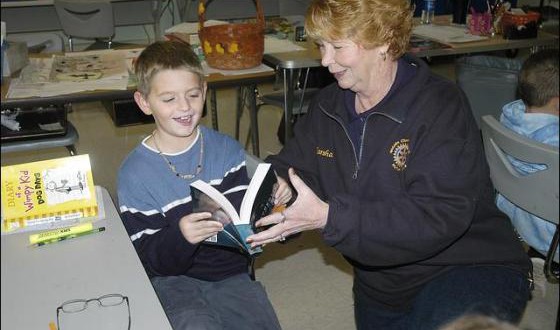 Rotary Club: Giving the gift of literacy
Look up 'enlighten' in the dictionary and you probably won't see a picture of Joseph B. Emmons — but you'll get an idea of what he was all about.
A program that started from his passion has now expanded to help more than 600 students throughout Niagara County.
Emmons, a Niagara County Central Rotary member, started a dictionary project in 2006. The idea was to get dictionaries into the hands of area students free of charge.
He started with a donation of less than 100 dictionaries, giving them to third-grade students at Thomas Marks Elementary School and W.H. Stevenson Elementary School in the Wilson School District.
It was Emmons' wish to help enlighten third graders with educational skills that they could carry with them throughout their school years, explains Niagara Central Rotary Club Public Relations officer Jim MacPhee.
Shortly after that first donation, Emmons passed away.
Months after his passing, his wife, Marsha, joined the Rotary Club and took over his position of chairperson of what later became the Joseph B. Emmons Dictionary Project.
In 2007, the program was expanded and dictionaries were distributed to third graders at the Starpoint Intermediate School along with Wilson third graders.
In 2008, the project expanded even further to include the Errick Road, West Street, Tuscarora and Colonial Village elementary schools of the Niagara-Wheatfield School District.
Why third graders? Bob Graczyk, Niagara Central Rotary president, can explain.
'Third grade is the year in which dictionary skills are taught and critical thinking begins,' he said. 'They learn more by looking up a word in the dictionary instead of the computer. They get more of what the meaning of the word unlike with a Word document.'
The children are enticed and challenged by the thought if they learn every word in the book they will be able to read, write and spell and succeed in what ever they want to do, he added. When someone from the community comes into the classroom and hands a student a personalized dictionary, the Rotary is conveying, 'we care about your education, we care about your future and we care about your success,' according to MacPhee.
'We do a lot with the schools,' he added. 'We give out scholarships to Niagara-Wheatfield, Wilson and Starpoint school students.'
This year the Joseph B. Emmons Dictionary Project expanded again to also included four private schools and home-schooled third graders. Over 600 third graders have received a dictionary from the organization.
'It is the goal of the program to present each child with a personalized dictionary to introduce young minds with interesting facts and support years of learning,' MacPhee said. 'The project has been so successful the Niagara Falls Rotary Club has adopted the project and has provided dictionaries for all Niagara Falls Elementary School third graders.'
The Niagara County Central Rotary Club consists of 25 members serving the communities of Wheatfield, Wilson and Sanborn through fundraisers for 34 local charities.
One of the club's biggest fundraisers is Old Sanborn Days in July. This year will be the 20th annual Old Sanborn Days with all funds going to charity. The club is also hosting the Fall Niagara Craft and Antique Show Nov. 21 and 22 at Post 1451, 6526 Ward Road, Sanborn. All proceeds will go to help victims of domestic violence.
Rotary Club International is a worldwide organization of more than 1.2 million men and women of business, professional and community leaders.