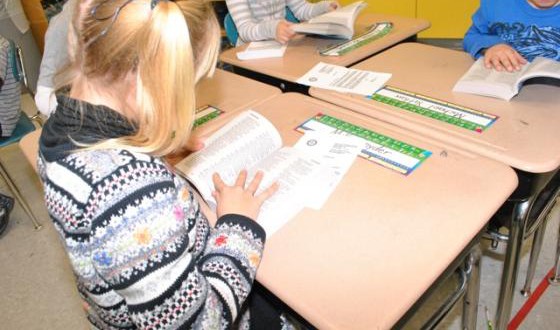 Rotary Club receives cheers from third graders
In these days of laptop computers, electronic media of all types, and spell checks, it is refreshing to see children excited about something such as a dictionary.
That was the case when Rotarians from the Rotary Club of Breakwater Daybreak presented 260 dictionaries to third graders at Brown, Kaler, Small, Skillin, Dyer and Holy Cross schools in South Portland.
A pocket dictionary might be a small thing, but it is a powerful tool to help `look it up` when you need to know how to spell, how to pronounce, or what a word means. This book is a really helpful tool, and you don`t have to plug it in.
A 3rd grade teacher at one of the schools told the students that they will find themselves relying on it heavily and even more so when they enter the fourth grade.
The goal of this Dictionary Project is to assist all students in completing the year as good writers, active readers, and creative thinkers by providing students with their own personal dictionary.
Reading is the most important skill of all. It is the starting point for all the economic and social opportunities this world has to offer, Rotary stressed.
Educators see the third grade as the dividing line between learning to read and reading to learn.
To learn more about Rotary and community service, go to www.breakwater-rotary.org