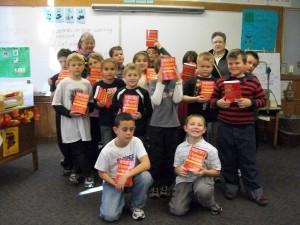 Mt. Etna Grange presents dictionaries
Sixteen more third graders are now proud owners of a personal dictionary, thanks to Mount Etna Grange #147 in North Baldwin. Members Norma Haines and Ann Burns donned their respective regalia and visited Baldwin Elementary School for the fourth year of `Words for Thirds` participation. Classroom teacher Janet Sherburne introduced the Grangers before Haines explained their sashes and told of a few offices and activities of the Grange. With enthusiasm the youngsters participated with their ideas as Haines introduced some of the purposes of the Grange and how they related to the local area. The two most relevant to the students being the RFD mail and the use of railroads for transportation of products and produce. As Baldwin was a farming and lumbering area, the Mattocks Station in Baldwin was very important to the families, many of whom belonged to one of the two Granges in town. As each student received their dictionary from Burns, they began to inspect the possibilities of its value.
When Thank You letters were received, it was apparent the dictionaries have been used for checking spelling, recognizing parts of speech, introduction of unfamiliar words and for definitions. The most impressive Thank You came from the teacher with this comment, `even my most reluctant readers are opening them and poring over the words.` This is a program well worth continuing!

Original Article available at :
http://mainestategrange.org/?tag=dictionary