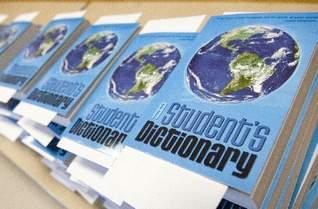 Rotary gives third graders in Greece, Hilton dictionaries
All third-graders in Greece and Hilton to get free dictionaries
By the end of the month, every third grader in the Greece and Hilton schools will have a brand-new dictionary of their own, thanks to the Greece and Hilton Rotary Clubs.
The Rotarian dictionary project kicked off last month, and more than 1,600 dictionaries were given out to help bolster kids' interest in reading.
'In consultation with the school districts, we picked a dictionary that is for that general third-grade age level; that has a periodic table, information about geography and social studies, a resource guide on astronomy and history,' said Ed D'Angelo, president of Greece Rotary.
'It's a treat for us when we give them out, to see kids who are getting their very own book.'
D'Angelo, of Chili, a salesman at Doan Buick GMC, has been a member of Greece Rotary for 14 years. He said the dictionary project fits perfectly with Rotary's aim to increase literacy. 'This meets a need at a local level,' he said.
With mottos of 'Service above Self' and 'They profit most who serve best,' Rotary International works to bring business and professional leaders together for humanitarian service projects and to build trust, goodwill and peace around the world.
Recently, Greece Rotary has worked on other projects in conjunction with fellow Rotarians in Africa. The club helped bring clean water systems to elementary school students in Nigeria, and helped collect much-needed books for children in Ethiopia.
John Zink of Greece, an eight-year Rotarian and property manager with Summit Federal Credit Union, is the dictionary project coordinator.
'Rotarians like to help all facets of the children in our community and around the world,' he said.
'Information came to us that third grade is the right time in a child's development for them to start using a dictionary. That's when they really start problem-solving on their own and looking up answers. We Rotarians thought dictionaries would be a key tool for doing that.'
With a $5,000 grant from state Sen. Joseph Robach, R-Greece, funding from Rotary International and local fundraising, Greece and Hilton Rotary plan to give out dictionaries to every third grader for at least the next three years.
'It's really exciting to hand them out,' said Zink, who's been going around to Greece's eight and Hilton's four elementary schools in the past few weeks to deliver the books.
'The kids look at you with great appreciation,' he said.
D'Angelo said he hopes the project not only helps kids with their reading, but also helps them understand the importance of service to others, a key component of Rotary.
He said children at Greece's Buckman Heights Elementary School last year were so taken with Rotary's gift that they organized their own schoolwide book drive.
They sent what they collected to Third World countries in desperate need of English reading materials.
'It's great to see kids putting their own efforts into it,' he said.
'These are the kids who are going to run the world.'