This video is about the Atlanta Airport Rotary Club's efforts to improve literacy in Georgia.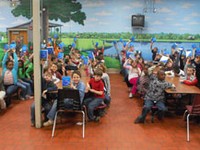 When children receive one of their first books, it is not often that the third word on the first page is "abalone." Thanks to the Johnsonville Hemingway Lions Club and The Diction
In February the Kiwanis Club of Queen Creek presented every third grader in the J.O. Combs Unified School district with a new dictionary as part of the Dictionary Project.