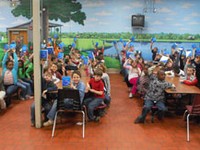 Seven years running, Hemingway Johnsonville Lions distribute dictionaries
When children receive one of their first books, it is not often that the third word on the first page is "abalone." Thanks to the Johnsonville Hemingway Lions Club and The Dictionary Project, the students of Hemingway and Johnsonville Elementary Schools can accurately define abalone as a mollusk whose shell is lined with mother-of-pearl.
For the seventh consecutive year, the local Lions Club has given away dictionaries to the third grade classes at the schools in conjunction with The Dictionary Project, a charitable group based out of Charleston, S.C.
"It is such an annual event," Johnsonville Elementary School Principal Dayne Coker said. "The third graders are all like, 'when are we going to get our dictionaries?' Because they have had siblings that have gotten them, and they all know that they only go to the third grade."
This year, Lions Club members Peter Knoller, Dale Strickland and Robert Jordan visited Johnsonville Middle School to distribute the dictionaries to excited students.
"Our great people come around and give us the dictionaries," Coker said. "If they didn't get them, I think they would be extremely sad."
The dictionaries serve as a source of gratification, as evidenced by the smiling faces of not only smiling faces of the third grade class of Johnsonville Elementary, but also by teachers.
"The teachers really appreciate it," Coker said. "We've got computers with spell check, you can use a dictionary on a computer, but to put your hands on a book and to go through that book and to be able to find a word is just a different feeling."
"It's different. You just get more in touch with the book itself."
Johnsonville Hemingway Lions Club member Peter Knoller explained that even though the local dictionary giveaway has its roots in Twin Cities area, it originated in Florence.
"We've probably been doing it for about six or seven years now," Knoller said. "It started with the Rotary Club in Florence, but they asked the Lions Club to take over and we've done it ever since."
While there is no test to determine how successful the dictionary giveaway is, Knoller said that he defines success as being able to reach one student with the importance of knowledge and education.
"If I am successful enough to get to one child, it's worth it," he said. "We also know that sometimes, this is the first book that any of these kids have ever had."
"We feel pretty strongly about it. We get the dictionaries from The Dictionary Project and they only cost us a buck and a half a piece."
Knoller stressed to the students the importance of their education and how the dictionary could help them.
"(The dictionary) is one of the most important books you can have in your education," he said. "We want you to put your name in it, so no one can bother it and it will be yours!"