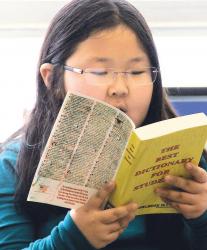 Rotary Club donation a tradition
Members present dictionaries to Jackson third graders

The Jackson Rotary Club has maintained its tradition of helping children find their way with words by donating dictionaries to every third grader in Jackson's six elementary schools.
"Every year, the Rotary Club donates dictionaries to the third grade," Howard C. Johnson School Principal Al Giambrone said at a Feb. 2 meeting of third-grade pupils and staff members. "Your job is to take care of them and use them— not only this year, but in the years to come."
The children listened as Rotary Club Vice President Luke Stango explained that the Rotary Club is a group of men and women who get together and perform community service.
Stango said that in addition to the distribution of dictionaries, the Rotary Club sponsors a fishing tournament and family picnic for special needs residents of Jackson.
"We also work with an orphanage in Santo Domingo [Dominican Republic], and we provide them with dictionaries, pencils and paper," he said. "We also support the food pantry in Jackson. We do a lot of projects right here in our community and also in foreign countries."
Stango said the Rotary Club has tried to eradicate polio around the world.
He said the dictionary project is important to the club members because children are important.
"We provide a tool so you can learn about words and other things," he said. "In addition to words and how to spell them, the dictionary has weights and measures and multiplication tables. There is also a copy of the Declaration of Independence and the Constitution, as well as a brief biography of all the presidents of the United States."
Giambrone praised the dictionary program. He said the children cherish the dictionaries they are given by the Rotary Club.
"We look forward to many more years of donated dictionaries," the principal said.
Rotary Club board member Mike Langroth said he is happy the club can provide the dictionaries for the children and said he hopes they can make good use of them.
"We also hope this will develop into community service [by the students] for the town," he said.
Justin, 8, a pupil in Joan Erickson's class, said he will use his dictionary to find the words that he needs to spell.
"The words are listed in A, B, C order," said Justin, who said he never had his own dictionary before. "I think this is a good idea to have dictionaries to look up the words at home."
Matthew, another pupil in Erickson's class, said if he does not know what a word means, he will be able to look it up.
"I've used a dictionary before," said Matthew. "It helps me a lot of times when my teacher asks us for the meaning of a word. We can use this for reading and spelling and writing."
Rotary International was founded in 1905 and is the world's oldest service organization. There are more than 33,000 local clubs in more than 200 countries, and the total membership is about 1.2 million men and women.
The Jackson Rotary Club meets at 7:15 a.m. every Tuesday at the Mug Rack, 2275 West County Line Road, just east of Bennetts Mills Road, Jackson. New members are welcome.
Later this year, the Jackson Rotary Club will celebrate its 40th anniversary.
For more information about the Rotary Club, visit www.jacksonrotaryclub.org or call Luke Stango at 732-379-8060.