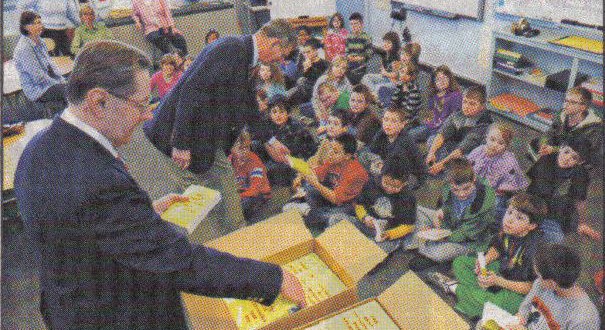 Elks Lodge members help spread the words
Eight-year-old Lorie's favorite activity at school is reading. Now, thanks to the Greenfield Lodge of Elks 1296, Lorie has a brand-new dictionary of her own, which she plans to use when she comes across words that she doesn't know.
This is Lorie's first dictionary. Before Tuesday, she would use her brother's if she needed to look up a word.
"I was kind of excited," she said, after hearing that she would be receiving a dictionary from the Elks.
The Elks donated 180 dictionaries to all of the third grade students in the Greenfield public schools. Two Elks' members went to Federal Street School on Tuesday afternoon, where they were greeted by about 40 smiling children. Lorie also plans to write down as many words as she can on a piece of paper. "Now, I have a whole bunch of words … a whole bunch that I don't know."
She intends to keep her yellow-covered dictionary in her desk at school and will bring it home on occasion.
After receiving his dictionary, 9-year-old Ion said the first thing that he planned to do was put it right into his book bag to bring home. Ion was also excited about his new book and knew that it will come in handy when he doesn't know the meaning of a word.
Robert Mott Jr., the Greenfield Elks exalted ruler, and member James Sanicki passed out the dictionaries on Tuesday.
Mott said it was "absolutely tremendous" to see the excitementon the children's faces.
Before giving out the dictionaries, Mott gave the children a brief history of the Elks and talked to them about the statewide initiative to give dictionaries to all third-grade students.
One student asked if it was OK for them to share his new dictionaries with their families.
"I think it is a great idea," Mott responded.