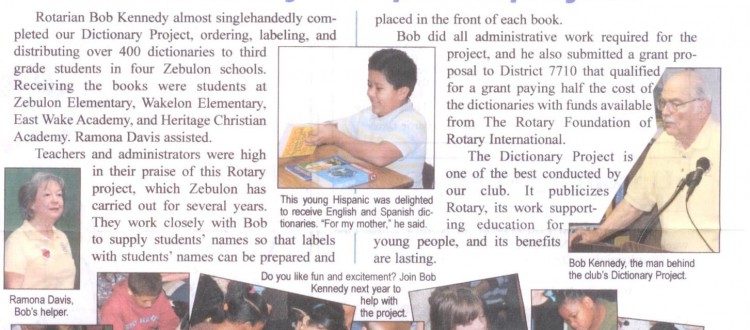 Four schools get dictionaries
Bob Kennedy completes project!
Rotarian Bob Kennedy almost singlehandedly completed our Dictionary Project: ordering, labeling, and distributing over 400 dictionaries to third-grade students in four Zebulon schools. Receiving the books were students at Zebulon Elementary, Wakelon Elementary, East Wake Academy, and Heritage Christian Academy. Ramona Davis assisted.
Teachers and administrators were high in their praise of this Rotary project, which Zebulon has carried out for several years. They work closely with Bob to supply students' names so that labels with students' names can be prepared and placed in the front of each book.
Bob did all administrative work required for the project, and he also submitted a grant proposal to District 7710 that qualified for a grant paying half the cost of the dictionaries with funds available from The Rotary Foundation of Rotary International.
The Dictionary Project one of the best conducted our club. It publicizes Rotary, its work supporting education for young people, and its benefits are lasting.