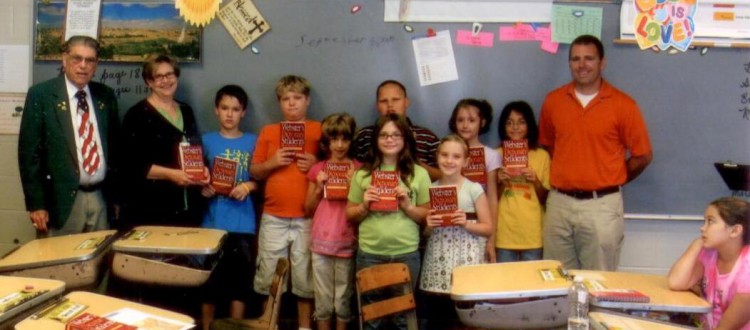 Galesburg Elks Lodge repeats popular dictionary project
Dear Mrs. French,
This year the Galesburg Elks Lodge # 894 gave dictionaries to third, fourth and fifth grade students at the Galesburg Christian School and third and fourth grade students at Costa Catholic Academy; and the third grade students at Galesburg District # 205, for a total of 544 dictionaries.
The teachers and aides also received dictionaries. Plus, each school library received 6 dictionaries.
Each dictionary was tagged in the inside cover: "This dictionary is presented to third grade students in School District # 205 from the Illinois Elks Association–Elks Care-Elks Share". The other schools', teachers', and libraries' dictionaries were also appropriately tagged.
PDDGER Al Urena was assisted by Exalted Ruler Sara Esp, Esteemed Leading Knight James Peacock, and Members Connie Heath and Evon Bell.
The students enjoyed receiving their dictionaries.
Sincerely,
Alphonse H. Urena
PDDGER
Galesburg Elks Lodge # 894
The Elks Lodge received many wonderful thank-you letters from students, teachers, and principals. Here are a couple of examples. To see more, visit the 'Letters of Support' pages of this website.
"Dear Mr. Urena,
We appreciate Elks Club efforts in furnishing Gale grade 3 students with dictionaries. This is a great program, and I assure you the students will learn dictionary usage! Thanks for thinking of Gale and District # 205 students!
Sincerely,
Ellen M. Spittell,
Gale Principal"
"Dear Elks Lodge members,
Thank for the kids Dictionarys. Everyone likes them me too by the way. I learned how to spell kan-ga-roo. The Dictionarys are great. I don't like them I love them.
Thank you,
Kennedi"