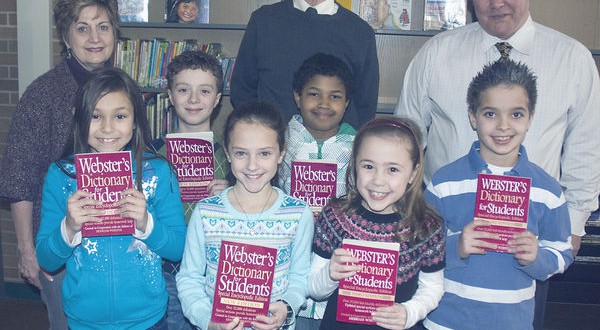 Jamestown Elks donate dictionaries to Bush Elementary
Representatives from Jamestown Elks Lodge 263 Lodge recently delivered personal dictionaries for each third-grade student at Bush Elementary School.
Every year, the Elks Lodge participates in the activity by donating dictionaries to third-graders across Chautauqua County, including the Jamestown Public Schools. This is the Elks' seventh year with more than 5,000 dictionaries given to area students in the Jamestown, Panama, Clymer, Southwestern, Bemus Point, Sinclairville, Cassadaga, Pine Valley, Falconer, Frewsburg, Holy Family and Bethel Baptist schools.
The Jamestown Elks, along with a Field of Interest Grant from the Chautauqua Region Community Foundation, paid for the most recent donation of 975 dictionaries to local third-grade students.
"The Community Foundation was pleased to help fund Elks Lodge 263's Dictionary Project," said Randy Sweeney, Chautauqua Region Community Foundation executive director. "The money came entirely out of our Blossom Fund, a fund that provides support to education efforts. I want to thank the Elks Club for their efforts to provide a key book to the students in the area."
Each student will be able to take the dictionaries home and use them in the classroom.
"What a wonderful charitable activity for the men and women of the Jamestown Elks Lodge to do for our students. We at Jamestown Public Schools appreciate their kindness and the students will especially enjoy using their dictionaries," said Tina Sandstrom, elementary education director.