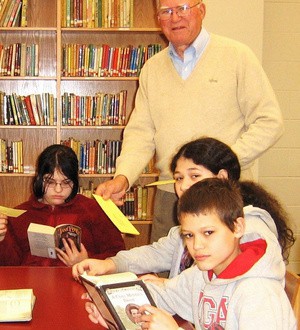 Rotary president promotes reading
When Jerry Coutant visits elementary or middle schools, he says he feels like he is standing among the people who will be the leaders of tomorrow.
"Reading skills with an excellent vocabulary are the key to academic achievement in school and will pave the way to higher education and to better jobs and career choices throughout adult life," said Coutant, president of the Rotary Club of Madison County.
March has been proclaimed "Literacy Month in Madison County" by the Madison County Commission, and Rotary Club members have taken active roles in promoting the month.
The Rotary Club has volunteers who read aloud to young children at the Easter Seals Head Start Program in Danielsville and at other day-care and pre-kindergarten centers in the county.
"We know that reading storybooks to young children exposes them to the wonder and excitement contained in storybooks," Coutant said. "This is the first step in reading readiness as the child's imagination develops, followed by the child's wish to be able to read on his or her own."
Rotary Club volunteers also serve as reading coaches at several elementary schools. There are studies indicating that students unable to read on a third-grade level after completing the third grade most likely will not graduate from high school, Coutant said.
"Therefore, our reading coaches work with the second-grade teachers and the reading intervention specialists at the elementary schools so as to provide additional aid to those students who need extra attention developing their reading skills," he said.
"I am particularly proud of our Dictionary Project," he added.
Once a year, the Rotary Club distributes a dictionary to every third- or fifth-grade student in the county. Volunteers provide a short orientation to show how useful the dictionary will be for the students.
Reading Achievement Certificates are given annually to selected students who reach specific levels of success as related to their reading ability. These certificates can be redeemed for books and other supplies at their school's book store.