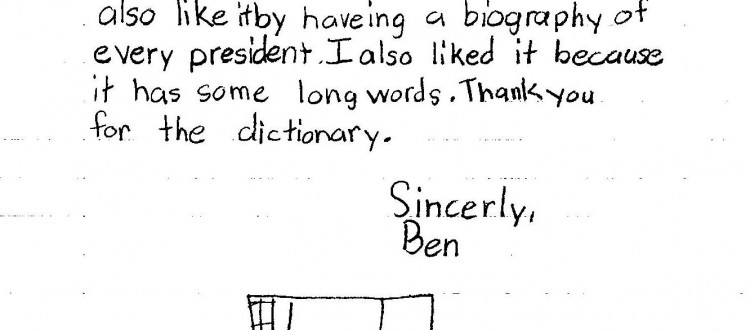 Third graders delight with dictionaries
Elks Lodge member hands out dictionaries
Third graders at Glennon Heights Elementary School now know that the longest word in the dictionary has 1,900 letters.
Venita Collier, of the Lakewood Elks Lodge, is donating a dictionary to third graders at 32 schools across the county, including Patterson, Dennison, Bear Creek, Beth Lutheran, Lumberg and Slater Elementary schools.
Eight-year-old Alexander said he would use it to find out about maps and that the longest word, a 1,900-letter formula term, was his favorite part.
The project, which is in its second year, aims to ensure third graders begin learning how to use a dictionary as a reference tool to read, write, and think creatively.
"I think it's a wonderful project that I'm doing. Third grade is the best year to start kids learning how to use it with their writing and spelling," Collier said.
Elks Lodge members donated nearly 2,000 dictionaries, and Collier visits each school to give a presentation about the importance of having a resource such as the dictionary.
Meagon Perius, third-grade teacher at Glennon Heights, was grateful that the school received new dictionaries again this year.
"The few dictionaries we have in our classroom are not third-grade friendly. They are for high school," Perius said.
After each student received a dictionary last year, Perius began designing assignments around using the dictionaries. Her lesson plans involve spelling, guide words and how to use the resources.
The dictionaries Collier chose are student-friendly and include nearly as many resource pages as definition pages. There are sections on measurements, states, biographies of the presidents, the Declaration of Independence and the Constitution, world maps and facts about the solar system.
"I chose this one because of all the resources it has. The kids always get a kick out of the five big words. They always know 'supercalifragilisticexpialidocious'," Collier said.
The book, A Student's Dictionary, is written by The Dictionary Project, a nonprofit organization attempting to provide each student with a dictionary.
During Collier's presentation, she highlights several areas students might enjoy and has them flip through the dictionary with her while answering questions.
Collier advises teachers to have the students keep the dictionary at school for the duration of the year. She ends the presentation by telling the children a quote from Austrian philosopher Ludwig Wittgenstein, "The limits of your language are the limits of your world."
For more information about the Dictionary Project, visit www.dictionaryproject.org.