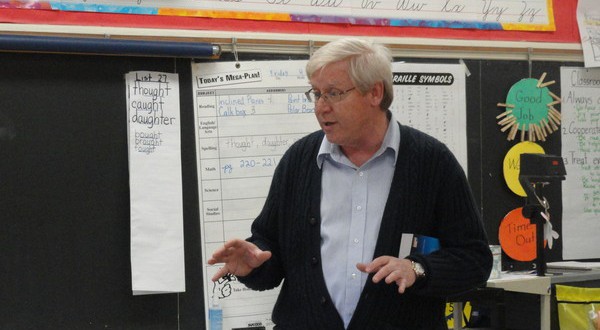 From A-Z, Kiwanis spreads love of language
The Dearborn Outer Drive Kiwanis has spent the last month passing out dictionaries to third graders in hopes that they'll inspire a lifetime passion for the written word.What's the longest word in the English language? What's the state bird of Arizona? Who was president in 1974? How do you spell "Dearborn" in sign language?
Thanks to Dearborn Outer Drive Kiwanis Club, third graders in Dearborn Public Schools can now learn the answers to those questions–-and many more.
Each year for four years running, the local Kiwanis chapter passes out Gazetteer dictionaries to over 1,600 students in all 27 Dearborn elementary schools. The 2011 effort has been under way for the past month, with members visiting several schools each week.
On Tuesday, Outer Drive Kiwanis Community Service Committee Chair Dr. Jim Rugenski, who spearheads the dictionary project, visited Howard and Lindbergh schools with several other members.
"We have the gift of words to give you," Rugenski told a group of students at Lindbergh. "Kiwanis is a group that volunteers and the main focus of our work is children. This (project) is my favorite because it's exciting to me, to give you guys this resource."
The kids were equally excited, flipping through pages and labeling their dictionary with their name.
"You guys have been working hard for years and your teacher's been working hard for years to teach you guys how to read," Rugenski told them. "This is a very important turning point in your educational career because you're not just learning to read now; you're actually reading to learn."
The Dearborn Outer Drive Kiwanis still plans to deliver dictionaries at 10 more schools this month. To follow their efforts in the DOD Kiwanis newsletter, visit their website, http://www.dodkiwanis.org/.