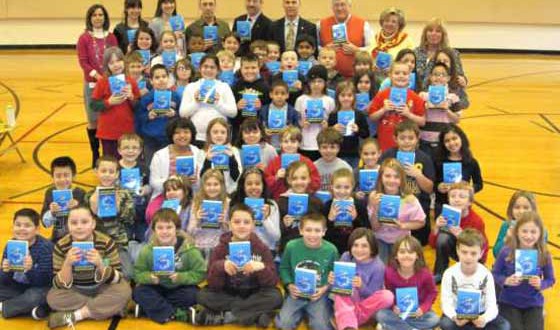 Pompton Lakes Rotary Club distributes dictionaries to local schools
As they have done for well over a decade, local Rotarians made their annual visit to Lenox, Lincoln, St. Mary's and Windsor schools bringing gifts to some of their favorite people in the community – the students.
Distributing dictionaries to every third-grade student in the four local schools, Pompton Lakes Rotary Club President Ken Snowe explained, "This is our club's literacy service project and just one of the many community service projects we undertake each year for the benefit of residents and, in particular, students."
Phil Sohn, chairman of the Rotary Club Dictionary Project, said, "This is such a wonderful project. It gives us an opportunity to come into the schools and speak personally with the children and to explain who we are and what we do."
Leading the group of Rotarians who travelled to each of the four schools this year, Sohn explained to students that Rotary is a worldwide organization of business and professional men and women that provides humanitarian service, encourages high ethical standards in all vocations, and is dedicated to building good will and peace throughout the world.
"The Rotary Club of Pompton Lakes is committed to the youth of our community and the greatest percentage of our resources are so directed," said Sohn.
That commitment takes the Rotary Club beyond the Dictionary Project to a variety of other contributions to students, such as annual scholarships awarded to Pompton Lakes High School students; contributing most of the funding for the insurance for the PAL basketball program for several hundred students; and presentation of the Rotary Student Achievement Awards to one deserving student from the high school, middle school and two elementary schools. Also, as the need arises, borough Rotarians assist families with children who are in crisis and in need of temporary financial assistance.
Business and professional men and women who may be interested in joining the Rotary Club of Pompton Lakes are invited to contact any member of the Rotary Club of Pompton Lakes, including Ken Snowe, Garry Luciani, or Peter Lefkowitz at 973-839-1400 or Liz de Nesnera, Bill Baig, Lan Kassover, Barbara Goll, Mary Hamilton, Judy Montgomery, Sam Citro, Harold Clark, Fred Kressaty, Dot O'Connor, Vincent Iraggi or Phil Sohn at 973-835-1212.
To learn more about Rotary and the Rotary Club of Pompton Lakes, visit the website at www.pomptonlakesrotary.org.