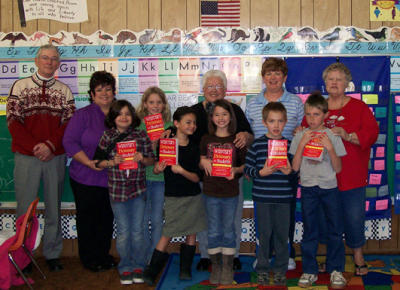 Project gives kids dictionaries
The Extension Association of Grant County participated in the Dictionary Project by presenting dictionaries to students in area private and Christian schools.
Four schools were included in the project, Calvary Christian Academy, Agape Academy, Guadalupe Montessori School and Down To Earth School. Members of the Extension Association visited the classrooms and spent time exploring the "World of Words" with the students. The dictionaries belong to the students and are theirs to take home. Some students indicated that this dictionary would be the only one they had at home and were very excited about sharing it with the rest of their family.
Annie Plummer of Savannah, Georgia, had a great love of words and wanted to share her passion with young people, so she started the Dictionary Project in 1992. Before she died in 1999, Annie had given away 17,000 dictionaries.
The Extension Association of Grant County partners with New Mexico State University and the Grant County Cooperative Extension Service to help provide educational programming such as this, for all of Grant County. Anyone interested in joining an Extension Club can call the Grant County Extension Office at 388-1559.