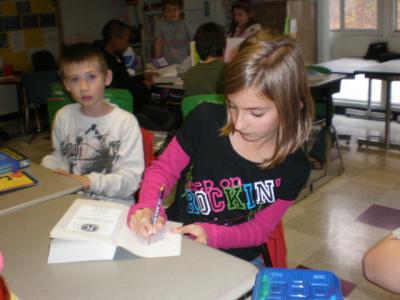 Canton Kiwanis dictionary project
The Kiwanis Club of Canton completed its seventh dictionary project this school year, distributing dictionaries to third graders at sixteen schools in the Plymouth-Canton Community School District. The Club website includes many pictures of their project, along with thank-you letters from the students.
The students wrote:
"Dear Kiwanis Club,
Thank you for the cool dictionary. Did I mention the dictionary is awesome. I didn't think so. I love how it has U. S. A. in it. I also love how it has the longest word in it."
"Dear Kiwanis Club,
Thank you for the awesome new great dictionary. It's awesome. I use it a lot. It's really nice of you. My favorite part is the sign language. It's really cool and nice of you to do that for us. The dictionary helps me a lot. Once again thanks."
To see more of their dictionary project photo album, visit their website.