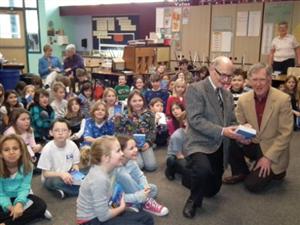 Boise dictionary project complete
In its 4th year participating in the Dictionary Project, the Rotary Club of Boise presented A Student's Dictionary and Gazetteer to each student in the Adams, Cynthia Mann, Jefferson, Whitney, Collister, Trail Wind, and Riverstone International schools' third-grade classes.
A total of 371 dictionaries were given away during assemblies in these schools for students presently enrolled in the schools, plus some extra books for students who may transfer into these classes. The students' names were transcribed on the book plate inside the front cover with the Rotary Four-Way Test, "1. Is it the Truth? 2. Is it Fair to all concerned? 3. Will it build Goodwill and Better Relationships? 4. Will it be Beneficial to all concerned?" Letters about the project were sent to the principals and teachers prior to the presentation, and a letter about the project and Rotary was sent to the parents of each student. The children are encouraged to take the dictionary home with them as a resource to have at hand. The dictionary is not just a comprehensive dictionary but includes biographies of all the U.S. Presidents including President Obama, facts about the 50 states, planets, and solar system, maps of the seven continents and other information useful to students. It also includes the longest word in the English language consisting of 1,909 letters!
With the goal to improve the reading ability and comprehension of all children everywhere, The Dictionary Project has distributed over 14 million dictionaries to students since 1995.
Rotary members, as volunteers, conduct projects to address today's humanitarian challenges, including illiteracy, disease, hunger, poverty, lack of clean water, and environmental concerns while encouraging high standards in all vocations. Rotary members strive to build goodwill and peace, and provide humanitarian service in their communities and throughout the world. Rotary is an organization of business and professional persons united worldwide who provide humanitarian service, encourage high ethical standards in all vocations and help to build good will and peace in the world. There are more than 1,200,000 service-minded persons belonging to more than 32,000 Rotary Clubs in 168 countries.
Rotary's top philanthropic goal is to eradicate polio worldwide. To date, Rotary has contributed nearly US$850 million and countless volunteer hours to the protection of more than two billion children in 122 countries. Rotary is currently working to raise an additional $200 million toward a $355 million challenge grant from the Bill & Melinda Gates Foundation. These efforts are providing much needed operational support, medical personnel, laboratory equipment and educational materials for health workers and parents. In addition, Rotary has played a major role in decisions by donor governments to contribute over $4 billion to the effort.