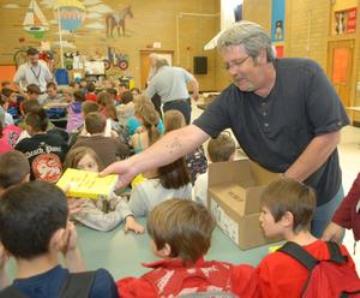 Lions give Lebanon third graders dictionaries
Third grader Antonio's eyes lit up when he was handed his own dictionary.
"I don't have to borrow from other people anymore," he said.
Antonio — and every other third grader at Lebanon Elementary School — was given a brand new dictionary by the Lebanon Lions Club. It's a project the club has been sponsoring for years and ensures every Lebanon student has a dictionary in third grade, the year children are learning dictionary skills.
"Teachers do a lot of activities with the dictionary in third grade," said Bonnie Hanna, interim principal. "In the past, they would have had a classroom dictionary and the dictionary of words in the back of their readers. This allows them to explore beyond that."
For children who love to read, like Antonio, a dictionary can open up new ways of learning.
"I like to find words I don't know and look them up," Antonio said.
Board of Education Chairman Melissa Hofmann, a 9-year member of the Lions, said the program brings together important Lions ideals — literacy and support for schools.
Hofmann was joined by Jody Walsh, a 10-year member of the Lions, and Tom Conley, a member of the Lions for more than 30 years.
Much to the adults' surprise, many of the students were aware of the work of the Lions in town. They knew the Lions run the Lebanon Fair and a fishing derby. The third graders also knew the club sponsors Fidelco Guide Dogs and helps people with vision issues.
"Usually they tell us we do things like tame lions and clean up roadkill," Walsh said with a smile.
Most of the students, however, did not know the Lions are an international organization with more than 1.3 million members in 206 countries.
Hofmann said the Lions have teamed up with The Dictionary Project, a national nonprofit dedicated to ensuring every third grader in the country gets a dictionary.
Lexi was glad to get her dictionary.
"I use a dictionary to help me with my homework to learns words I don't know," she said.
Teacher Jennifer Olsen said the students were excited to get their own dictionary. Third grade is the year children beginning reading to learn. Dictionaries and the skill to use them are critical, Olsen said.
"And it makes them feel grown up to have their own dictionary," Olsen said.
Hofmann said a dictionary can be a lasting tool for a student.
"We hope they'll take them into the fourth grade and beyond with them," she said.

Copyright 2011 The Bulletin. Some rights reserved

Original article: http://www.norwichbulletin.com/topnews/x1058158341/Lions-give-Lebanon-third-graders-dictionaries#axzz1M4TMlU65