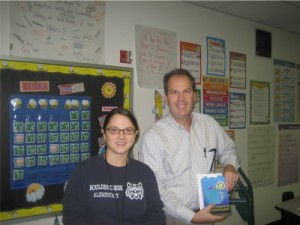 This is year six of one of our most enjoyable and rewarding community service activities…The Dictionary Project. Over 14 million children have received their own dictionaries thanks to sponsors of The Dictionary Project over the years. In 2009 2,488,454 dictionaries were delivered throughout the United States, and over 71,000 dictionaries were distributed in Arizona. We are participating in a well-recognized and highly appreciated program.
Since things have gone well in the past, we will proceed as before. Our goal is to get the dictionaries in the hands of the children as soon as possible. Rotarians, their spouses and friends will be meeting at The Merlino Ranch at 6:00 PM on Thursday, October 21, 2010. Pizza and beverages will be served at 6:00, and we will begin stickering the dictionaries as soon as possible.
Distribution assignments are ready, and will be available that evening. Once the dictionaries are ready to go, club members may pick up their assignment sheets and the correct number of dictionaries. Then you should each contact the school principal listed on the sheet in order to set up a delivery date.