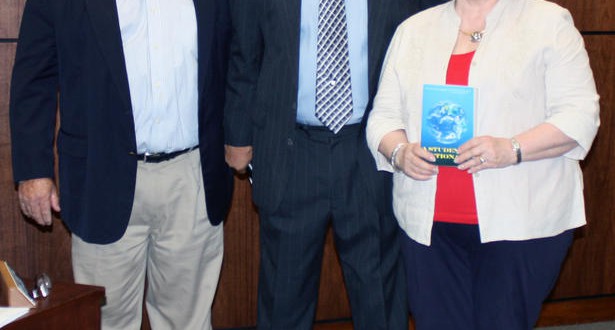 LaCour talks about dictionary project
Joyce LaCour with the Ascension Republican Women recently made a presentation at the Ascension Parish Council meeting on about the organization's "Up With Words" Dictionary Project.
LaCour, shown holding a copy of the student dictionary, said parish third graders are presented with the dictionaries each year as part of this project that has grown nationally. LaCour said the project began in 1992 in Savannah, Georgia, when a local woman presented 50 dictionaries to local third-grade students. Since then, the national project has been adopted by the Ascension Republican Women.
LaCour said 13 Ascension Parish primary schools received a total of 1,488 dictionaries last year at a cost of $2,600. This year, 14 schools will participate in this program that is funded by donations from Ascension Republican Women members as well as residents and businesses.
"The reason why third graders are chosen (to receive the dictionaries) is because at that age, they are very interested in learning words and they're also ready to expand their knowledge of the language," LaCour said.
Donations to this project can be made to the Ascension Republican Women, P.O. Box 1514, Prairieville, LA. 70769.