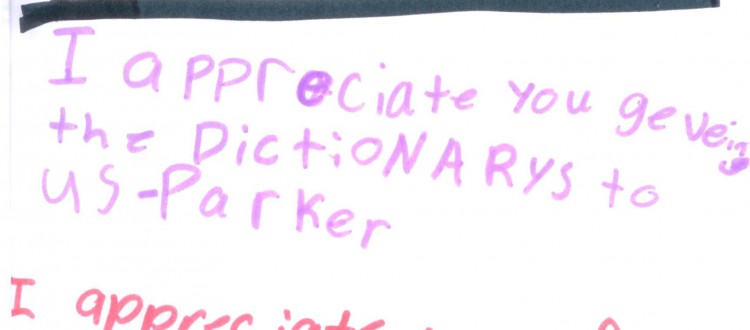 Thank you, Cedar Rapids Elks Lodge!
Since 2005, Cedar Rapids Elks Lodge # 251 has provided dictionaries for third graders in Cedar Rapids and surrounding communities. This past year, they visited 30 elementary schools to deliver dictionaries and drug awareness materials. The teachers are very appreciative of this project, and several of them helped their classes to make very clever thank-you letters.
Ms. Palmer's class wrote:
"Dear Elk's Club Members,
Thank you for taking time to come to our school and for giving us dictionaries and coloring books.
We liked learning about the parts of the dictionary. The dictionaries will help us be better writers. We had fun coloring while learning to be safe and not use drugs.
We really appreciate all that the Elk's Club has done for Prairie Heights.
Sincerely,
Ms. Palmer's Third Grade Class
Prairie Heights Elementary"
Ms. Butts' class at Van Buren Elementary wrote in their Thank You Dictionary,

"The Thank-You Dictionary contains words that help us show our appreciation to the Elks Lodge. We are grateful for our dictionaries. It was so thoughtful of you to take the time to come to our school and hand them out. It is nice to know you care about our education. Thank you, Elks Lodge!"