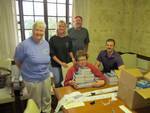 Berea Rotary prepares to deliver 600 dictionaries
Several Rotarians and I got together last evening and labeled the dictionaries in preparation for delivery to 600 third graders in five schools next week. A Rotarian and faculty member at Baldwin-Wallace College in Berea donated 600 "college bags" to distribute with the dictionaries.
Books will be distributed to Grindstone Elementary in Berea, Falls-Lenox in Olmsted Falls, St. Mary in Berea, St. Adalbert Academy in Berea and St. Mary of the Falls in Olmsted Falls.