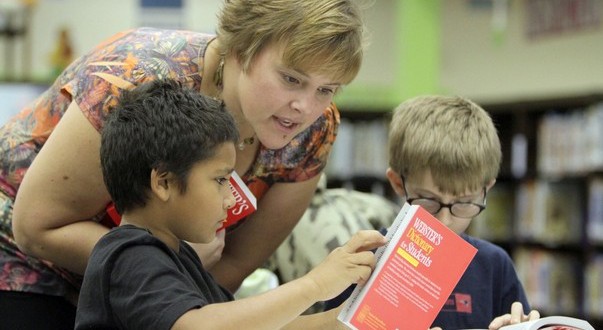 Third graders get dictionaries
Third grader Madison's eyes lit up Monday when she received a new red Webster's Dictionary for Students, something she hopes to use on a daily basis at home and at East Marion Elementary School.
"I'm excited that this will help me learn," Madison said with a big smile. "This will help because I am a poorly speller."
Madison was just one of nearly 100 third graders at East Marion and Fort McCoy School who received the dictionaries thanks to ACA Construction Group and Marion County Judge Steven Rogers.
ACA and Rogers have been handing out the dictionaries to every third grader in Marion County for the past eight years to help them prepare for the ever-important spring reading FCAT.
The group hands out about 3,200 dictionaries to third graders each year.
"We even polled the teachers this year to see if dictionaries were still useful in our Internet society," said Todd Duffy of ACA.
The teachers said they were valuable. In fact, East Marion third-grade teacher Mary Bowden said many children at the school, which is in the Ocala National Forest, live in remote areas and either don't have Internet access at home or their parents just cannot afford it.
Fort McCoy School principal Mike Hearn, who was East Marion Elementary's principal last school year, estimates that as many as four out of every five children at the two schools may not have home access to the Internet.
After a brief introduction, Duffy, ACA's Barry Mansfield, School Board member Ron Crawford and Deputy Superintendent of Schools Wally Wagoner handed out the dictionaries.
Back at East Marion, Mansfield challenged the children to look up the word "character." As children quickly thumbed through the dictionaries, one boy yelled out: "Does it start with a 'C' or a 'K?'?"
Mansfield also challenged the children to look up one new word every day.
"Without words, what can you do?" Mansfield said. "You couldn't speak, you couldn't read, you couldn't learn."
Moments before the giveaway, East Marion principal Rusty Corley said a dictionary is key for children to become better readers.
"They need these (dictionaries) so they can be successful in school and later in life," Corley noted.
The event is part of the national Dictionary Project. Though every School District third grader gets a dictionary, ACA representatives personally visit only about a third of the School District's elementary schools each year.
ACA and school officials visit each school every three years. Here is the schedule for the remaining elementary school visits this year:
Wednesday: Emerald Shores, 8 a.m.; and Evergreen, 9:15 a.m.
Thursday: Harbour View, 8 a.m.; and Dunnellon, 9:15 a.m.
Friday: Dr. N.H. Jones, 8 a.m.; Madison Street Academy, 8:30 a.m.; Maplewood, 9:15 a.m.; and Wyomina Park, 10 a.m.
Monday: Romeo, 8 a.m.
The local dictionary project was launched in 2004 by Rogers, then an attorney. He heard about the Dictionary Project on the radio and asked childhood friends Ken and Steve Ausley of Ausley Construction to help purchase the books.
In 2007, ACA became the sponsor.
http://www.ocala.com/article/20111010/ARTICLES/111019984?p=1&tc=pg