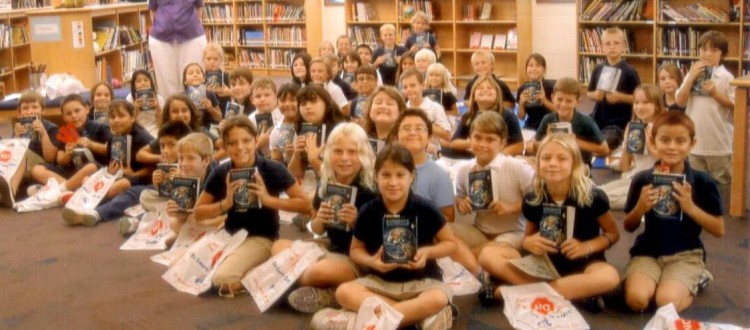 Elks distribute dictionaries
Continuing a longstanding tradition, the Wickenburg Elks Lodge Youth Committee participated in the nationwide Dictionary Project. The goal of the non-profit Dictionary Project is to assure that every third grader in the country has his or her own dictionary. Many organizations participate in the project.
Judy Vergalla and Elks Youth Committee Chairman Carolyn McDonald visited four schools August 23 and distributed dictionaries and Elks "Just Say No" bookmarks, ribbons, and poster contest coloring books to children in Aguila, Wenden, Salome and the Wickenburg Christian Academy. On Thursday, September 1, Elks Dee Bybee and McDonald drove more than 200 miles and gave dictionaries and bags to third graders at Festival Foothills, Desert Oasis, Nadaburg, and Model Creek Schools. McDonald also took dictionaries to Morristown in August.
The Elks donated more than 260 dictionaries plus drug-awareness materials to nine schools this fall.
Dictionary Project note:
The Elks received a special request for dictionaries from the 5th grade class at Aguila Elementary School and received many wonderful letters of thanks from the fifth graders. This is one of them:
"Dear Elks and Mrs. McDonald,
Thank you for the dictionaries. I really needed one because my family says some pretty complex words. I also translate for my family so I need a big vocabulary. I'll take real good care of it. I'll keep it by the sofa. If you're wondering why by the sofa it's because I sleep there.
I had a really good summer. I had lots of fun with my family. There were a few injuries but it was so fun. The 4th, 5th, and 6th grades will go to Wet & Wild Saturday. I wish you could come. We're going because we all passed the AIMS test.
Sincerely,
Felipe"