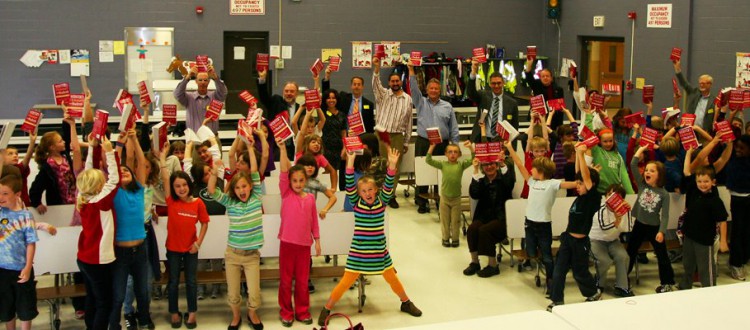 Rhinebeck Rotary gives the gift of words
At 1:45pm on the afternoon of Monday, October 24, 2011, an extraordinary event will be taking place at Rhinebeck's Chancellor Livingston Elementary School. At a special assembly, the Rhinebeck Rotary club will be providing each of the third-grade students with their very own personal dictionary to keep forever!! Rhinebeck Rotary's efforts have been made possible by a national program, known as The Dictionary Project, which has resulted in over 15 million dictionaries being distributed to third-grade students across the country. According to Louis Turpin, Rhinebeck Rotary's chairman for The Dictionary Project, "We believe that a dictionary is perhaps the first and most powerful reference tool that a child should own. Its usefulness goes beyond the spellings, pronunciations, and definitions it lists. It is a companion for solving problems that arise as a child develops their reading, writing, and creative thinking abilities. Students benefit from an increased self-reliance and resourcefulness inspired by the maxim 'look it up'. Teachers benefit by knowing that their students have consistent access to a tool for homework and in-class explorations." Fellow Rotarian, and Rhinebeck Schools Superintendent, Joseph Phelan adds, "The program is designed to aid third-grade teachers in their goal to see that all of their students leave at the end of the school year as good writers, active readers, and critical thinkers. On behalf of the Rhinebeck Central School District, we are thankful to the Rhinebeck Rotary club for providing each of our third graders with a reference book that will enhance their ability to communicate for many years to come." To learn more about The Dictionary Project, you may visit them online at dictionaryproject.org.
This program, which began locally in 2002, is just one of the many services that the Rhinebeck Rotary provides in their community. The other local programs to which they have previously provided support include The Starr Library, Northern Dutchess Hospital, Little League, Cub Scouts, Soccer League, College Scholarships to High School graduates, RHS Interact Club, the Fifth Grade Whale Watch Trip, Crew Team, Astor Home, Baptist Home, Aerodrome, Winnakee Land Trust, Ferncliff Forest, Rhinebeck/Reinbach Exchange, Wilderstein, Fire Department, and many others. Rhinebeck Rotary also provides support for other projects well beyond the boundaries of the Rhinebeck community, directly and in conjunction with other organizations, around the world. These projects include Rotary International's Polio Plus, which is determined to eradicate Polio worldwide, as well as humanitarian support provided in developing nations by our Club in collaboration with our Rhinebeck High School Interact Club, members of which annually travel to Nicaragua to implement our international service projects there.
As a service organization, Rotary encourages its members to adhere to Rotary's Four-Way Test of the things they think, say or do, which can be found on the personalized name label inside each of the dictionary's covers; "Is it the truth? Is it fair to all concerned? Will it build good will and better friendships? Will it be beneficial to all concerned?" "The third grade teachers and I are delighted that the Rhinebeck Rotary has once again sponsored the Dictionary Project with our students at Chancellor Livingston," says Principal Brett King, "They will be a great resource for the students and mean more to the students because they each receive a personal copy which they can keep and use throughout the grades."