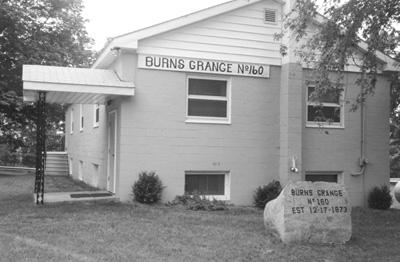 Grange is still active, with new role in rural America
As a child growing up near Battle Creek, Kathryn Strouse took part in all that the Grange offered, including the teen dances.
So her interest was piqued a dozen years ago when efforts began to launch a new Grange in Gratiot County.
Gratiot has a long link to the Grange organization, having once sported 17 chapters.
But those were long gone when Midland resident Dale Moore sought to reinvigorate Gratiot's rural communities with a new chapter.
"I was interested because of the good work they do for the community," Strouse said.
Once the bastion of rural America, the Grange – which early-on led the charge to regulate railroads and grain warehouses – isn't what it used to be.
Just the same, it's far from dead.
As master of the Gratiot Grange, Strouse oversees a fledgling group of 13 members who meet monthly and, among other things, hold fundraisers to benefit local children.
Grange halls once dotted the rural landscape like one-room schoolhouses, and many still remain.
While the Gratiot group meets at the Newark Township Hall, other Granges cling to their historic homes.
Among them is the Burns Grange, which state president Christopher Johnston calls home.
Established in 1873 on the banks of the Shiawassee River, between the tiny villages of Byron and Bancroft, the Burns Grange has operated continuously for 138 years.
"We exist for the benefit of rural America," Johnston said. "There is a huge agricultural influence in the organization."
Indeed, the Grange is also credited for the advent of the Cooperative Extension Service and Rural Free Delivery of mail.
Officially known as the National Grange of the Order of Patrons of Husbandry, the Grange – the word is Latin for grain – was founded just after the Civil War.
Membership has dwindled over the years, driven in large part by the decline both in the number of farmers and in rural residents themselves.
Still, the mission endures, and many of those leading today's charge – both Strouse and Johnston included – are not farmers.
Strouse points to the project that puts a dictionary in the hands of every Gratiot County third-grader – dubbed Words for Thirds – as a reason for her involvement.
"Teachers are thrilled when they find out we're bringing the dictionaries, and they plan lessons around them," Strouse said. "They belong to each child, not to the school."
A recent bake sale, one of two or three a year, helped provide cash for the dictionary project, a program also conducted at other chapters, including the Burns Grange in Shiawasee County.
Another project, now on hold, had Gratiot Grange members making stuffed animals for local emergency crews to distribute to children in crisis situations.
While much of the efforts are local, though, the Grange has not lost its farm-lobby focus.
As state president, Johnston was in Washington, D.C., last spring meeting with Senators Levin and Stabenow, among others, and lobbying for less regulation of agricultural herbicides and fungicides.
Johnston, 31, who works at a Meijer distribution center, is atypical of the average Grange population in terms of both age and vocation.
He was born into the Grange, so to speak, with his mother having served 25-years-and-running as the state secretary.
"I grew up in the Grange," he said. "I was at my first meeting when I was a week old, from what I've been told."
As president – officially he is state master – Johnston oversees 35 local chapters; he estimates average member age at nearly 75.
But his 5-year-old twin boys are already familiar with the Grange, and Johnston hopes they continue the family tradition.
"I've never been a farmer a day in my life," he said, "but we're active in promoting the interests of rural America."