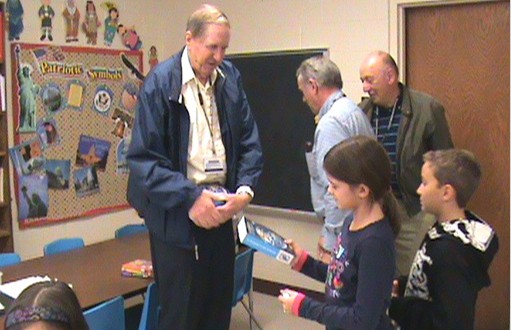 Lords Valley Rotary gives out dictionaries
Five hundred sixty third-grade children at local schools were given dictionaries this month, thanks to the Lords Valley Rotary Club.
For about 10 years, the club has been giving out dictionaries to third graders at three schools, Wallenpaupack North Intermediate School, Dingman Delaware Elementary School and East Stroudsburg North Elementary School, Bushkill.
School Librarian Heather Haupt at Dingman Delaware commented, "One cute comment I overheard as I was in the classroom was that the students were pretty sure that every word in their textbooks must be in the dictionary. They were thrilled that the dictionaries were theirs to keep forever, too."
Rotarians Ted Christian, Gerald Serlin and Harry Fried personally handed the dictionaries to the children, one at a time. They were at Wallenpaupack Oct. 13 and at the other two schools, Oct. 18. Harold Walker, a former club president, served as the driver.
The Milford-Matamoras Rotary Club delivers dictionaries to Delaware Valley Elementary School.
Serlin said that Rotary International participates in The Dictionary Project, a nonprofit organization based in Charleston, SC. Since 1992, over 16.4 million dictionaries have been given to third graders nationwide, through partner organizations.
Third graders are targeted because this age level is generally just beginning to transition from learning to read to reading to learn. Having their own dictionaries then assist students to strengthen their literacy skills.
"The children were just amazing," Serlin remarked. "The kids this year were little angels. They were extremely appreciative."
Walker stated that anywhere from 550 to 600 dictionaries are given out every year. Lords Valley Rotary also sponsored containers of dictionaries to be shipped to Rotary Clubs in South Africa and Jamaica.
Why should they give out dictionaries when kids have the computer to look up words? Walker put it this way: "You tell a nine-year-old to look it up on the computer and they say, 'Oh- here's a game' – but if they look it up in the dictionary, it entices them to read."
Not every child has a computer at home, Walker added.
Lords Valley Rotary Club hosts a 50/50 raffle every year to raise money for the dictionaries. Serlin said that this year they raised $2,500, at $10 a ticket. Of that, $1,000 went to buy dictionaries; $1,000 for the raffle prize and the extra $500 went to help other club benefit projects. Robert Goldsack was the raffle winner.
The current club president is Carol Tracey. Lords Valley Rotary Club meets at Portobello Pizza & Pasta, Route 739 in Lords Valley, on Mondays at 6 p.m. New members are welcome. Serlin said that if anyone needs more information about their club, he may be contacted at 775-7375.