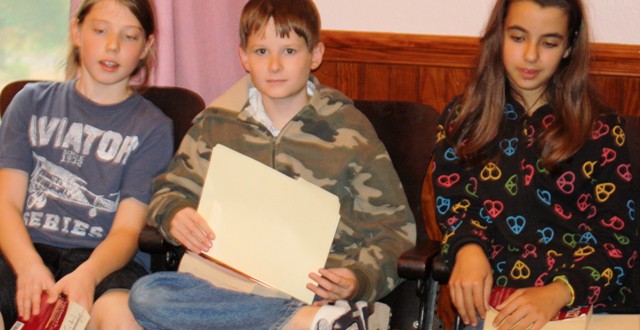 Valley Grange presents 1,000th dictionary
Piscataquis Community Elementary School third graders in Guilford, ME, were the audience for Valley Grange's first Dictionary Day this year, and their visit to the grange hall in Guilford included several special moments. One that grangers were particularly proud of and pleased with happened when third grader Kyle received dictionary number 1,000 – representing eight years of the Grange's support to the Dictionary Project.

Hearing the sounds of children's laughter and enthusiasm ringing through the hall gives members a lot of pleasure. "This is absolutely the best program…" said L. A. S. Nathalee Marsh while straightening up after the kids boarded the bus to return to school with their shiny new dictionaries. "It's so satisfying to know we are contributing to these kids' futures."

This year's presentation featured Eric Boothroyd as a Union Sergeant from the Civil War Era. Students learned that had they lived in those times, they might have been inducted as musicians even at their young age. When the sergeant played "Yankee Doodle" on his fife, one student exclaimed, "Hey, that sounds just like Barney!"

Sixth graders Billy, Alexandra, and Adam came with their well-worn dictionaries from three years ago to explain how their dictionaries have helped them. "I'll be doing homework at my kitchen table and then be like, 'Oh, I don't know how to spell this,' so I'll run over to the shelf and it's right there," said Billy Griffith.

Project Coordinator Walter Boomsma notes that the first third graders to receive dictionaries from the grange are now juniors in high school. "I recently bumped into a parent who reminded me of that," he said. "And she told me that dictionary still occupies a prominent spot on the bookshelf in her daughter's bedroom. This is a project with long-lasting results."

Valley Grange provides the dictionaries to three school districts each year. On November 4 students from SeDoMoCha Elementary school will visit the grange hall for their dictionaries, and on November 18 a team of grange members will travel through S. A. D. 41 to visit elementary schools in Lagrange, Milo, and Brownville. Parents of homeschooled third graders are encouraged to contact their local elementary school so all area students are included.

Community Service Chairperson Mary Annis notes that Valley Grange enjoys a number of projects that involve children. "Just several days ago these same students were introduced to this year's Bookworm Program," Annis said. "And on October 22 we are collaborating with Penquis to host a Harvest Supper to benefit the Piscataquis Santa Fund… which also is a great opportunity to purchase tickets for our "meat or heat" raffle–a major fundraiser for our dictionary purchases."

Boomsma agrees. "When we arrived at the Guilford Elementary School to start the bookworm program, one of the teachers greeted me with 'Heads up! Arts Alive is June 8th this year!' The schools love having us involved with their programs and the kids. And we love being there!"

To learn more about the grange and its programs, visit http://valleygrange.wordpress.com.