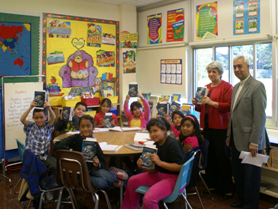 Westbury-Carle Place Rotary provides dictionaries to third graders
The Westbury-Carle Place Rotary Club visited Rushmore Avenue School to welcome the third-grade students back to school by presenting them with dictionaries.
"The third-grade class was very excited for the Rotary Club's annual visit," said Mrs. Susan Folkson, principal at Rushmore Ave. "All of the students loved receiving their dictionaries and finding out all of its uses from the Rotary Club representatives."
Cathy Handy, Julian Huertas, and Larry Boes presented the dictionaries to the students, and they quickly began learning new words and utilizing the other resources that dictionaries have to offer.
After the students had a chance to glance through their new learning tool, Ms. Handy, Mr. Huertas, and Mr. Boes talked with the students about what the Rotary Club stands for: respect and integrity.
The mission of the Carle Place School District is to provide an education environment in which all students can achieve success and become productive citizens. The Board of Education and administration of the Carle Place Schools believe that strong connections between school and community are extremely important to the success of the students.
The Westbury-Carle Place Rotary Club also provides dictionaries for third-grade students in the Westbury Union Free School District and at the private schools in Westbury.