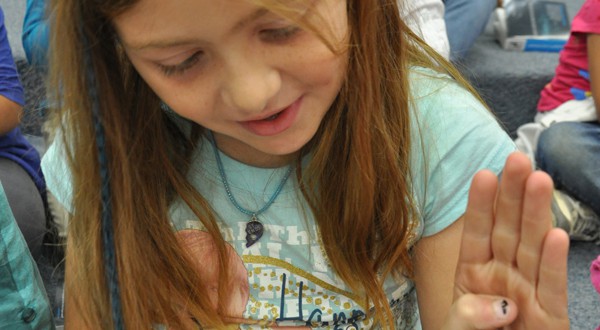 Aiken County third graders delve into their new dictionaries
With her third-grade classmates at Jefferson Elementary School, Bailey received her new dictionary and immediately delved into it, trying out signing letters from a sign language chart in the back of the book.
"It's awesome," Bailey said. "It tells us the longest word, and everything in the book is neat. It's cool to have your own dictionary."
Members of three Rotary Clubs in Aiken County delivered about 2,200 dictionaries to all public, private and home-school third graders – part of an international project.

Aiken School Superintendent Dr. Beth Everitt, an Aiken Rotary Club member, was joined by her club president, J. David Jameson, along with Aiken Sunrise Rotary President Gary Coxon and Sunrise member Steve Black, coordinator of the annual event.
Even with all the technology available now, "You still can't replace a book in the hand," Everitt said.
She explained to the children that the dictionary contains lots of extra information – including presidential biographies, details about the 50 states and many foreign countries and, yes, the longest English word, all 1,909 characters of it.
The Rotary Clubs, which also include the North Augusta chapter, have been involved with the project for the past decade. That's how long Robyn Rogers has been teaching third grade at Jefferson.
"It's something I look forward to every year," she said. "I use the dictionaries in my class, and the kids take them home to do their homework. They cross over in curriculum as well, as I use the dictionaries in social studies and math."
Coxon and Jameson were delighted to see the kids' utter joy of having their own book, especially one with so much interesting stuff.
"To listen to the buzz of the kids, it was obvious that each and every child was excited about getting the dictionaries," Coxon said. "It's exciting for us, as Rotarians, how well they were received."
The children's pride in book ownership was certainly a factor in their pleasure, Jameson said.
"Just knowing that 2,200 third graders receiving a dictionary, that's pretty impactful," he said. "For some of them, it may be the first book they've owned."