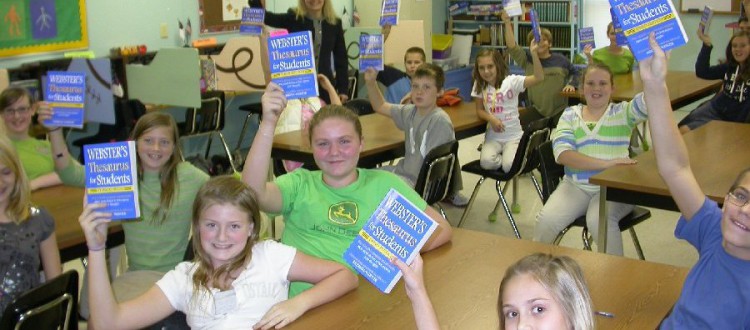 Personal thesaurus copies distributed to sixth graders
October was "Thesaurus Month" again for county students as Putnam Rotarians passed out personal copies of the reference books to area sixth graders.
The local club purchases the books at a reduced price through the national Dictionary Project with some assistance from the Rotary District for southern West Virginia.
A thesaurus is a dictionary of synonyms — words of similar meaning.
This year marks the fifth year of participation in the project for Putnam Rotary.
After the club first acquired dictionaries through the national organization, Rotarians were told that students in the public schools already had been provided with dictionaries.
The dictionaries then were given to the Putnam adult literacy program, and thereafter thesauri were ordered for distribution for middle school students.
The thesaurus was thought to be a valuable reference resource at a time when students face a growing emphasis on composition skills.
Christina McComas, coordinator of the local project, said, "A thesaurus can help build vocabulary.
"We like to think that our local support for this project has played a role in the top test scores earned by Putnam students," she said.
The books were given out at Hurricane (Sept. 27th), Poca (Sept. 30th), Winfield (Oct. 3rd), George Washington (Oct. 27th), Teays Valley Christian and Calvary Baptist Academy (Nov. 1st).
Through the Dictionary Project, sponsors can also choose to provide atlases, Spanish/English dictionaries, French/English dictionaries, or vocabulary builders to students in their local schools.
Since the national Dictionary Project began in 1995, over 16 million children have received dictionaries.
About 3,200 of the books have gone to students in Putnam County, West Virginia.